Hot on the heels of Episode 49, I received an e-mail from Adi Ravid, an Adobe Certified Expert in Israel, who pointed out a much better method for creating rounded Paragraph Rules. Shortly thereafter, my friend Birgit Stolte in Germany popped up on iChat to remind me that she had already mentioned the same tip to me some time ago. I'm embarrassed to admit that not only didn't I think of this technique myself, but I completely forgot that I'd been told about it before.
Adi was nice enough to let me share his description of the technique here on the blog, so here goes:
1. From the Stroke panel menu, choose Stroke Styles, then click the New… button.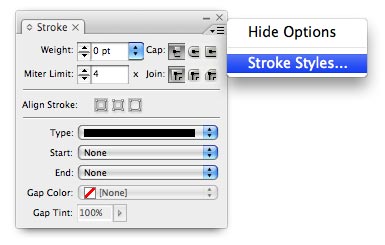 2. In the New Stroke Style dialog box, choose Dash for the rule type.
3. Set the Length of the dash to be the same as the Pattern Length (both 2 picas in this example).
4. For the Cap, click the middle icon (Round Cap).
5. Give the rule a name and click OK.
Now, at the bottom of the Stroke Type menu (wherever it appears in InDesign), you'll have a new option for your rounded cap stroke.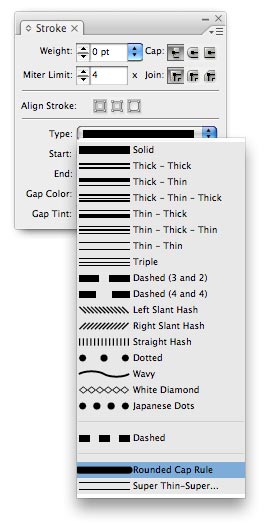 After that, all of the techniques I discussed in Episode 49 still apply, but instead of using two rules to get a rounded cap, you only need one, which opens up possibilities for combining rounded cap rules using rules above and below, and underlines (where the new stroke is also an option) to create double and triple rounded stroke effects like these.

An added tip of my own: If you always want to have a round cap rule available from the Stroke Type menu, create your new Stroke Style using the method above when you have no documents open. Every new document you create from that point will include this stroke option.
Download a sample of this technique (InDesign Interchange file | 136 KB)
You can follow any responses to this entry through the RSS 2.0 feed. Both comments and pings are currently closed.