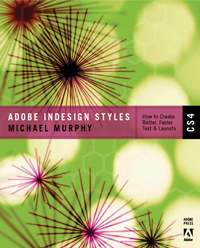 After six months, tens of thousands of words, and many late nights, I have finally completed my book for Adobe Press, "Adobe InDesign Styles: How to Create Better, Faster Text and Layouts" which is available for pre-order at Peachpit.com and at Amazon.com and will be shipping in the second half of April, 2009. I'm both glad to be done with it and very pleased with the end result: the first ever exploration of every InDesign style type, and all other features in the application that are "wired into" styles.
As many of you know from the podcast, I've got a passion for styles that's finally seen a comprehensive outlet in this book. Below is the final table of contents for the book, so you can see what's included between its covers, as well as in two bonus chapters that you can download for free when you register your copy of the book on the Peachpit web site (it doesn't matter where you actually bought the book). I wrote way too much to fit in its 256 pages, but the material that got pulled from print will still see the light of day as downloadable content. As more information becomes available about any discount offers or codes that can be used, I will post that information on the blog and include it in future podcast episodes.
Speaking of the podcast, this book (even more so than the baby) is what's kept me from posting any new episodes, as noted in a prior post. Now that it's finished, expect to start seeing new podcast episodes very soon. I've missed doing them–as well as the interaction they give me with the audience–and video will be a refreshing change from writing after six months. Stay tuned!
PART 1: TEXT STYLES
Chapter 1Â  The Fundamentals:Â  Paragraph and Character Styles
Character Style Attributes
Paragraph Style Attributes
Working with Paragraph and Character Styles
Chapter 2Â  Nesting and Sequencing Styles
Nested Styles
Advanced Nesting Techniques
Nested Line Styles
Paragraph Styles in Sequence: The Next Style Option
Establishing Relationships: Based-on Styles
Chapter 3Â  Automatic Styling with GREP
GREP Styles vs. Nested Styles
Metacharacters
Creating a GREP Style
Defining Expressions for GREP Styles
Chapter 4 Auto-styling Imported Word and Excel Files
Working with Word Files
Working with Excel Files
PART 2: STYLES BEYOND TEXT
Chapter 5Â  Object Styles
One-stop Shopping for Attributes
Default Object Styles
Similarities Between Object Styles and Text Styles
Differences Between Object Styles and Text Styles
Combining Paragraph Styles and Object Styles
Flexible Object Styles Every InDesign User Should Have
Chapter 6Â  Table and Cell Styles
Table Styling
Table Styles vs. Cell Styles
Working with Table Style Limitations
Maintaining Links and Updating Tables
PART 3: COMBINING STYLES WITH OTHER FEATURES
Chapter 7Â  Drop Caps, Bullets, and Numbering
Drop Caps
Bullets and Numbering
Chapter 8 Advanced Find/Change with Styles
Finding and Changing Text Styles
GREP Find/Change vs. GREP Styles
Saving Queries
Advanced Style-based Search Techniques
Find/Change for Objects
Chapter 9Â  Generating Dynamic Content with Styles
Tables of Contents
Running Header Text Variables
Cross-references
Chapter 10Â  Styles, CSS, and XML
Export for Dreamweaver
Styles and XML
Importing XML
XSLT: Styles on Steroids
Chapter 11Â  Style Management
Style Organization Basics
Style Groups
Quick Apply
Managing Styles Across Documents
BONUS ONLINE CHAPTERS
Stroke Styles
Creating New Stroke Styles
Saving Stroke Styles
Modifying and Deleting Stroke Styles
Sharing Stroke Styles
Stroke Style Easter Eggs
Planning Projects with Styles in Mind
Style Triage
Creating "Undefined" Styles
Power-apply Your Styles
Redefine, Redefine, Redefine
You can follow any responses to this entry through the RSS 2.0 feed. Both comments and pings are currently closed.