One of the most long-awaited featues for a page layout program has been transparency support — and InDesign's got it. But making the transparency you see on the screen translate to the printed page requires a process called Flattening. This episode discusses Transparency and Flattening in InDesign and the steps you should take to prevent unwanted flattening results from causing problems with the printing of your work.
Listen to the episode here (17:38 | 4.1MB), or you can subscribe via iTunes.
I've also posted some screen shots to illustrate what I discuss in the podcast. Listen first…then these will make sense.
In this example shown below, objects with transparency are placed on the same layer as all other elements on the page.
When you view this page with the Flattener Preview on (below), you can see that portions of both the headline and the body copy will be rasterized in the flattening process. For the headine, it's not a big deal because it's display-sized type and the rasterization won't be noticeable. For the body copy, however, this is going to be very noticeable and look very much like a mistake.
If you create a transparency layer below your text and other elements, you can see (below) that none of your type will be rasterized in the flattening process. It's that simple. Here, even the books above the headline have been moved back to the transparency layer, but they don't have to be if you prefer to have the shadow cast over the type. Just be aware that some (acceptable) rasterization will occur there.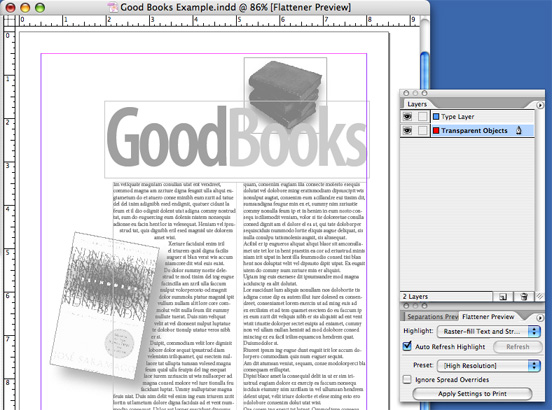 You can follow any responses to this entry through the RSS 2.0 feed. Both comments and pings are currently closed.