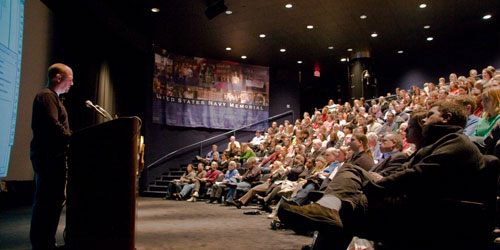 Last night, I delivered an expanded, 90-minute version of my "Styles Equal Substance" presentation to a record-setting audience of more than 250 people at the Washington, D.C. InDesign User Group meeting. It was an amazing experience. The crowd was energetic, had great questions and made a first-time visitor to the nation's capitol feel right at home.
"Styles Equal Substance" has been so well-received in both Boston and D.C., that I'll be presenting an hour-long version of it at the upcoming InDesign Conference in Miami (February 26 – March 1, 2008). If you can't make it to Miami, you can get a glimpse at the extent of styles throughout the application by downloading the handout from the D.C. meeting.
Photo by Mitchell Osborne, courtesy of the InDesign User Group web site. See more photos from the meeting.
You can follow any responses to this entry through the RSS 2.0 feed. Both comments and pings are currently closed.