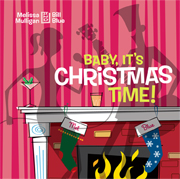 OK…Christmas has already come and gone, I know, but it's still technically the holiday season, and the title of this episode is the title of a Christmas CD project I recently designed. That's the project I showcase in this episode, in which I demonstrate a holiday grab bag of InDesign goodies including: starting a document on a left-hand page, using the Slug area and Text Variables, placing InDesign documents inside of other InDesign documents, using frames to crop and manage vector shapes, inserting Column Breaks and other special break characters, and setting up looping Nested Styles.
Watch the episode here (23:25 | 41.6MB), or you can subscribe via iTunes.
Listen to or purchase "Baby, It's Christmas Time!" at CDBaby.com.
Download "Baby, It's Christmas Time!" from iTunes.
You can follow any responses to this entry through the RSS 2.0 feed. Both comments and pings are currently closed.